Napata College: The 1st conference for advances in scientific research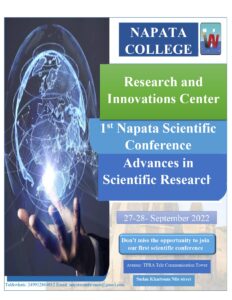 Research Manuscript guideline
Research and innovation center
The 1st conference for advances in scientific research
Manuscript guideline
TITLE: SHOULD BE TIMES NEW ROMAN 14, CAPITAL, AND BOLD.
Subtitle: Should be Times new roman, 12, Bold, and italic. (Left aligned, 1 cm indent)
Authors' name(s)
Affiliation(s)
Corresponding author
Abstract: Structured, Not exceeding 280 words, (Font Times New Roman, size 12).
المستخلص باللغة العربية: لا يزيد عن 280 كلمة. Traditional Arabic, 12
Keywords: Maximum six relevant and expressive words
Table titles should be above table

Figures' caption should be below the graph

References should be written according to Vancouver style.
For more enquiries contact: Email: